Bee removal company
Lees gerus hierdie bladsy in Afrikaans
We are a company based in South Africa that specialises in bee removals. We specialise in removing bees from urban and suburban areas to relocate the bees onto farms. Because bees can be a danger to people, it is best to let professionals with the right equipment to remove bees from your home. We are those professionals. Our expertise dates back many years, so you can count on us to do a good job.
We remove bees in:
Residential areas like houses, schools, water meters and playgrounds.
Commercial areas like shops, hotels, restaurants, factories, offices and many more locations.
Urban areas like high rise buildings, train stations, bus stops, roads and public buildings
We are bee removers, not bee-keepers. Most bees are relocated to farms where they are used to polinate crops and produce honey and bees wax. We also sell bee hives to beginner bee keepers to get them started with their trade.
Because we specialise in the removing of bees we subscribe to the codes of conduct as laid out by the Bee Removers Association of South Africa. (BRASA)
Areas, Time and Cost of bee removals
We travel to most areas in Johannesburg, Cape Town , Cape Town and Pretoria. Our areas in Johannesburg include, but are not exclusive to Sandton, Bryanston, Randburg and Fourways. All that you have to do, is to pick up the phone and call us. The cost depends on the difficulty of removing the hive but most bee removals are standard. Please call to discuss where your bees are and the best way of removing them. As soon as the queen bee, bee nest or bee hive are found, all that is left is to remove them, by placing them in a box or bee container. Bees no longer have to be a problem to your home or office. We are the solution to your problematic swarm.
Good quality bee removal service
Bees are very mystical and important insects. They provide us with sweet honey which is used for many healing and medical reasons. With this in mind, we make sure to remove them as safely as possible, in the process making sure to deliver a good quality service. Getting rid of bees does to have to be a hassle any more, we are here to make sure the job is done, quickly and safely. We try our level best to keep our clients safe and happy, and also do our best not to harm the bees in the process.
Bee removal in one's home
Most of us would get really worried at the sight of a large colony of bees inhabiting our home. This is only natural seeing as bees are known to sting. Having bees in your home when you are allergic to bees is highly risky and could be life threatening. The best solution to this problem would be to have the bees removed by a professional from your home.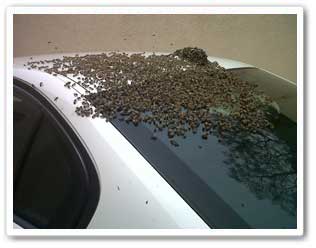 There is never a need to panic from the get-go. Bees generally take about 1-3 days to decide whether your home is suitable for them or not. But it is smarter to not to wait until they settle and build a hive. Calling a bee remover or a bee-keeper would be the best thing to do. If you discover that a hive has been built by the bees at a late stage, do not despair. The bees can still be removed from your home.
Bee removal methods differ. The bee-keeper will have his own way, and the bee removal specialist will use his own method. Again, this depends on whether the bees have built a hive or not and how much brood there is. The key to successful bee removal is to capture the queen and as many of the worker bees as possible. It is important to get the queen into the box because wherever the queen goes, the rest of the swarm will follow. Most bees are not aggresive unless you approach them or cut grass near them.
A bee removal specialist must be called in if a hive is already in existence. It is best to approach bee hives early in the morning, or late in the afternoon. This is when the bees are in their hive and least likely to sting. He will have to find the hive and get rid of the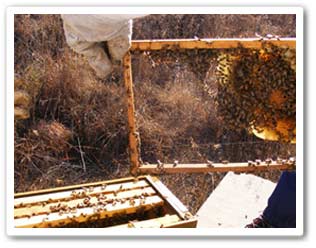 bees, making sure to not leave any behind. He could:
Trap the bees, and place them in a box
Make the conditions in the hive uncomfortable and place a mobile replacement hive nearby
Killing the bees is never a great option because they benefit the environment.
When the queen and as many of the worker bees are captured it is best to destroy the hive and remove as much of the bee infrastructure as possible.
Bees are never out to get us, generally they are just looking for a place to build their hive, take care of their queen and make a little bit of honey. The only danger with bees is the possibility of being stung when one is allergic. Removing the bees serves them well because they are moved to a much better and more controlled environment.
Whenever there is a bee infestation in one's home, it is always best to have it removed before it causes any major problems.
Bees have been known to inhabit strange venues, let's take a look at some of the least expected places bees have built their hives.
Last updated November 2013